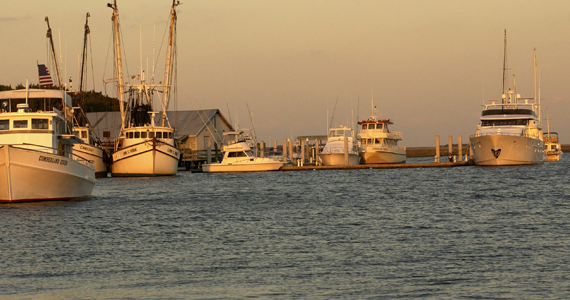 Cumberland Sound Ferry announces its new spring/summer schedule with increased service to and from St. Mary's Georgia and Fernandina Beach, Florida. Connecting these two historic towns, Kevin McCarthy and Cumberland Sound Ferry captains offer 3 roundtrips daily, six days a week (Tuesday through Sunday) from March 1 through August 31, 2009, with a late ferry on Saturdays.
The Cumberland Sound Ferry is a 51 foot long vessel with an 80 passenger capacity, offering pet and bicycle friendly service between St. Mary's, GA and Fernandina Beach, FL without the drive or parking issues. Soft drinks and water are available on board for a $1 donation or passengers can bring their own favorite food and beverage (non-alcoholic and alcoholic allowed).
Views of the Cumberland Sound Ferry include the beautiful shores of Amelia Island, as well as the pristine sand dunes of Cumberland Island, Georgia. Leave the driving to us as you visit the many cafes, historic attractions, antique and other unique shopping experiences. Our ferry will deliver you at the port of Fernandina, within walking distance of horse and buggy rides, great food, music and a colorful town steeped in history.
Your roundtrip cruise may bring you face to face with dancing dolphins, beguiling sea otters, or even a submarine coming into its homeport of Kings Bay Naval Submarine Base. Both Fernandina Beach and St. Mary's are great walking towns with outdoor café's, art and antique galleries, museums, eclectic shopping and historic attractions just steps from the waterfront.
The Cumberland Sound Ferry is $15 roundtrip and major credit cards are accepted. Reservation times and ticket prices are subject to change. Minimum passenger count is required and we may cancel the ferry if minimum is not met. The captain makes the final decision regarding weather cancellations. Reservations are recommended, but not required EXCEPT for Saturday late ferry and 24 hour cancellation is requested.
For more information, please call our office at: 904-261-9972 or toll free at (877) 264-9972. Visit us on the web at: www.ameliarivercruises.com. Cumberland Sound Ferry is owned and operated by Amelia River Excursions, Inc. (Captain Kevin McCarthy, Captain Willie Sweatt, and Cecilia McCarthy)
New Spring / Summer Schedule (March 1 – August 31, 2009):
Fernandina Beach, Florida St. Mary's, Georgia
Departs Departs
10:00 a.m. 11:30 a.m.
1:00 p.m. 2:30 p.m.
4:00 p.m. 5:30 p.m.
8:00 p.m. (Saturdays only) 9:00 (Saturdays only)
***Ask about added boat service for Shrimp Fest Weekend!***