For the past three weeks the St. Marys Economic Development Conference Room has been the site of Captain John Scott's First Coast Maritime (FCM) licensing class. First Coast Maritime LLC offers quality maritime training and instruction for a variety of licenses issued by the United States Coast Guard (USCG). FCM has obtained USCG approval for the St. Marys Economic Development Center facilities, allowing licensing courses to be taught at the facility. Students are also tested at the site, and the diploma issued by FCM for successful completion of a program may be submitted to the USCG to obtain certain licenses. FCM offers courses from the basic Operator of Uninspected Passenger Vessel certification – commonly referred to as a "six pack license" to more advanced professional maritime licenses and training. With class schedules of up to two weeks, the students attending classes with FCM make a substantial contribution to the local economy. The company also offers post military career counseling for active duty members of the Navy, Marines and Coast Guard, demonstrating how the active duty sea service can be used in the Merchant Marine setting, from service on commercial ships to operating a small fishing charter.
Captain Scott had these words to share about the conference facility available through city. "When you are in need of a meeting facility for your business, there are two main challenges: finding the right facility to meet your specific needs and finding the best establishment and professional staff to work with. St. Marys Economic Development Center has become our anchor to the successful execution of conducting USCG Federal Licensing classes."
Alyce Thornhill, Director of Economic Development agrees that this is an asset to our City. Leasing the conference room not only brings funds into the city it also keeps activity in our Downtown; these students support local businesses on breaks during the long sessions. "It is an initiative of our Economic Development Committee to attract and recruit more opportunities like this for the conference space, our room will easily hold 50 people and has all the amenities for hosting conferences, classes, workshops and planning sessions. For more information please contact St Marys Economic Development Department, 912-882-8111.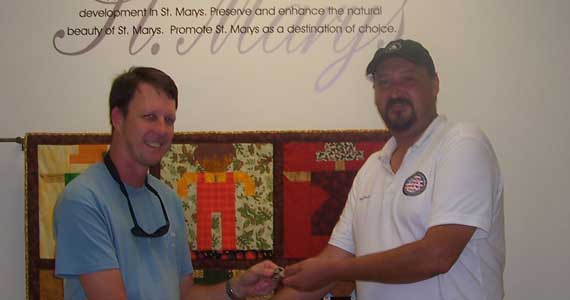 Captain John Scott, owner of 1st Coast Maritime (right) awarding Lt. Dale Williams of the Camden County Sheriff's Office Search and Rescue (left) his challenge coin for successfully meeting the requirements for his USCG Captain's License).