The Jacksonville Sharks are pleased to announce their First Annual Military Appreciation Night presented by Navy Federal Credit Union. To help honor the military, all active and veteran military personnel will be offered a buy one, get one free ticket promotion as the Sharks take on the Dallas Vigilantes on Sea Best Field at Jacksonville Veterans Memorial Arena. Along with the ticket promotion, military personnel will also be offered a 10% discount on all Sharks merchandise.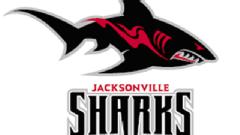 To take part in the promotion, simply present a valid military ID at the arena box office or any Ticketmaster outlet, or use the promotion code MILITARY on Ticketmaster.
Click here to purchase your tickets at Ticketmaster now!
Tickets purchased through Ticketmaster can be picked up at the arena box office with valid military ID only. Tickets will be subject to availability and limited to four free tickets (eight total) per order.
Tickets purchased anywhere in the arena will be accompanied by a free ticket in the same section. Tickets can be purchased at the arena box office or Ticketmaster.
Attack Dance Team Swimsuit Calendar
The Jacksonville Sharks announce the 2010-2011 Attack Dance Team swimsuit calendar will be released on Friday, May 14th.  The calendars will be available for purchase during the home game against the Dallas Vigilantes.
The calendar begins in June and features the beautiful girls of the Sharks Attack Dance Team.  Each month will feature one dance team member in a stunning swimsuit provided by Aqua East Surf Shop.
The calendars are available for $10 each at the Sharks merchandise stands.  The calendars will be available for purchase beginning at 5:30 pm at Sea Best Field during SharkFest, the pregame party before each and every Sharks home game. Fans can get their calendars signed by the Attack Dance Team after the game on the field during the traditional autograph session.