One of the biggest and most popular festivals in Camden County every year is the Labor Day Kingsland Catfish Festival. This festival offers everything from 5K run to pancake breakfast, arts and crafts vendors, live music on stage and most importantly Southern fried catfish dinners served with ice cold sweet tea.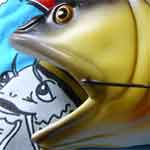 Catfish Festival Give Away
CONGRATULATIONS to Shereè Truelove our winner! Make sure you sign up for our newsletter so you can find out about future contests and giveaways.
This week CamdenHappenings.com is doing a special Giveaway for the Kingsland Catfish Festival.  The photo below shows you exactly what you will win:
Two Kingsland Catfish Festival t-shirts (size L)
4 special catfish festival coozies for the cold beverage of your choice
This is the perfect package of stuff to use for your own southern style fish fry! How can you resist those cute and funny catfish coozies!
This is what you need to do to participate in the give away:
a) Subscribe to our newsletter and confirm the subscription.  (When you subscribe you'll get sent an email asking you to click on the link to confirm – you need to do this to confirm your subscription. )
Once you're a subscriber to the newsletter you'll find out about new contests and give aways at CamdenHappenings.com!
b) Sign up & and like Camden Happenings Facebook Page
c) Remember to let your friends know about us so they can win too!
The grand prize winner will be selected from our list of confirmed newsletter subscribers.  Deadline for entry Monday September 6, 2010.
The winner will be notified via email. U.S. residents only.