Hay Days comes to St. Marys October 9th and to kick-off the fun-filled family event, you can "Build-A-Scarecrow". Make him goofy, make her silly with a floppy hat, or even make a scary face, just let your imagination run wild. Come out and create a scarecrow with your kids, neighbors, church group or Scouting group!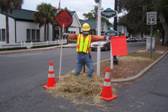 Kids of all ages are invited to Build-A-Scarecrow at Orange Hall on Saturday, October 9th at 10:00 AM. The first of the Hay Days events begin with everything you need to make the perfect Scarecrow available for only $20. We will find just the right place for your unique Scarecrow downtown or take it home to bring a touch of autumn to your lawn. Bordering Osborne Street the Scarecrows will welcome locals and visitors alike to town throughout the Hay Days celebration.
To reserve your Build-A-Scarecrow kit, call the St. Marys Downtown Development Authority, (912) 882-8111 or email info@stmarysdda.com. A limited number of kits are available so hurry and make your reservations today to join in the fun. Any Scarecrow kits remaining will be assigned on a first come basis the day of the event at a cost of $25.
Click here for more details about Hay Days – St Marys