Just in time for Valentine's Day, the news reached Kingsland – the city of Kingsland, Georgia, has been named Lovetown, USA. After a nationwide search, Oprah Winfrey Network and BBC Worldwide Productions have selected Kingsland, GA, to be the location for a new TV series. In the month of February, two expert matchmakers including the real-life "Hitch," Paul Carrick Brunson, and Kailen Rosenberg, with more than 200 successful marriages to her name, will help eight singles embark on a journey to find true love.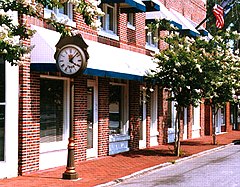 From the local mayor to restaurateurs, bosses and even married couples, everyone in the town will be involved in the biggest social experiment in TV history. The new series, scheduled to premiere this summer, will film 8 episodes in Kingsland over a four week period beginning in mid-February.
If you would like to be a part of this ground-breaking experience, send your name, age, contact information and photos of yourself along with a brief story about why you are ready to fall in love to: LovetownUSA@gmail.com The casting deadline is right around the corner, so contact us today!!
LOVETOWN CASTING DEPARTMENT: (323) 785-4616
Also, visit Lovetown on Facebook.