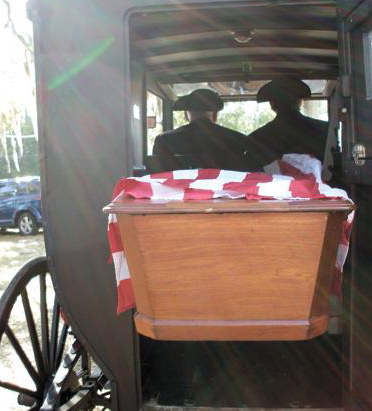 Back in the olden days things were different. There were no radio or TV broadcasts and it would simply take some time for news to spread across the country. When George Washington died on December. 14, 1799, but the announcement of the nation's first president's death didn't reach St. Marys, GA,  until February 1, 1800 – an amazing 49 days later!
Two days later a few members from St Marys Masonic Lodge got together, and in honor of the President they unloaded an empty casket from a ship at the waterfront, draped a flag over the coffin. A local ox named "Big Red" was awarded the job of pulling the cart down Osborne street to the intersection of Conyers. There the group buried the coffin and planted for live oaks to honor George Washington. The oaks are mostly gone by now, but the Masonic Lodge is trying to get new live oaks planted in the median.
Now you can get a little taste of what it was like back in those days. You can watch this burial ceremony re-enacted by members of the Masonic lodge in St. Marys. This time the cart will not be pulled by an ox, instead the organizers has hired a mule.
Approximately 50 people dressed in period costumes will participate, including a color guard from Kings Bay Naval Submarine Base.
The George Washington re-enactment event takes place on Sunday, February 21, 2011,  and starts at the Masonic lodge on Wheeler Street. The procession will end at the same spot where the casket was buried and trees planted 210 years ago.