Kingsland Labor Day Catfish Festival takes place on September 3-5 , 2011. This popular annual event usually attracts a huge crowd of over 65,000 people over three days.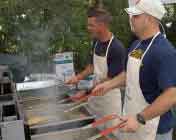 This festival celebrates catfish and you have to come to the festival hungry, so you can taste the fried catfish served at this event. The catfish is prepared according to an old, secret recipe. They say that around 10,000 pounds of farm-raised catfish is cooked and prepared for the catfish festival. So it's safe to say that southern-fried catfish is a popular dish. The dinners go on sale at 12:00 noon on Saturday and Sunday and 11:00 a.m. on Labor Day. Other menu items include the famous deep-fried onion blossoms, oriental fare, barbecue, and homemade ice cream.
The festival opens on Saturday with a 5K run so you can work up an appetite and enjoy those 10,000 pounds of catfish. Vendors selling art, antiques, crafts and collectibles will open their booths at noon on Saturday and Sunday, and 9 a.m. on Labor Day. Don't miss the pancake breakfast on Monday, followed by the parade. Here is our video from the event.
SATURDAY September 3, 2011
7:00 AM – 5K Race, sponsored by the Camden Miracle League
7:15 AM – Beginning of Vendor Check-In
(Vendors will be sent confirmations with their assigned check-in times and instructions)
12:00 PM – Official Festival Start Timw — Catfish Festival Dinners
3:30PM – Barefoot Bible Band (Kingsland First United Methodist Church)
4:45 PM – Harbor Worship
6:00 PM – Festival Closes
SUNDAY September 4, 2011
12:00 PM – Festival Opens (All Areas) Catfish Dinners Available
12:15 PM – Laura Shellman Carson
1:30 PM – Messenger
2:45 PM – Cheap and Easy
4:00 PM – The Fusion Band
5:15 PM – Franklin Washington
6:00 PM – Festival Closes
MONDAY September 5, 2011
7:00 AM – Pancake Breakfast (sponsored by The Lions Club)
9:00 AM – Parade Line-up (Must be in line by 9:30 to be judged for awards)
10:00 AM – Parade Begins (Hwy 17 S)
11:30 AM – Awards Ceremony (Main Stage Area)
11:30 AM – Paks Karate Demonstration
11:30 AM – Antique Car and Truck Show
12:30 PM – The Mathis Brothers
2:00 PM – Ignite Church
3:30 PM – On the Edge Band
5:30 PM – South Georgia Countryline Cloggers
6:00 PM – Festival Officially Ends
For more information, visit the website