The biggest happening of the year in Woodbine, Georgia is of course the annual, world famous Crawfish Festival. This year it's the 27th annual Crawfish Festival at the Satilla river waterfront park. This is a popular family-friendly event in Camden County, so you can expect lots of people, lots of vendors, food and fun. There's of course a parade, a 5K, entertainment, arts and crafts and lots of fresh crawfish to eat. The Woodbine Crawfish Festival takes place on Friday Night, April 27, 2012 from 5:00pm to 9:00pm and on
Saturday, April 28, 2012 from 8:00am – 6:30pm.
Crawfish Parade
The Crawfish Parade is one of the highlights of the festival and is enjoyed by young and old alike. It begins at 10:00am at the corner of U.S. 17 and E. 10th Street and features entries such as bands, clowns, floats and horses.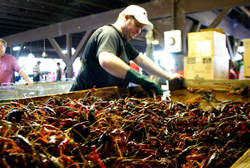 Crawfish and Other Food
Many of us come to these festivals to enjoy fresh seafood and at the Woodbine Crawfish Festival you can get all kinds. There is of course Crawfish Boil and Crawfish Woodbine (which is really Crawfish Etoufee), but for those who don't enjoy seafood there's other food such as Fried Chicken, Red Beans and Rice, Homemade Desserts, Barbecue, Funnel Cakes and much more. So plan to come hungry.
Arts & Crafts
Vendor booths are located on the meandering pathway at the Satilla Riverfront. Here you will find all kinds of handmade items. This area is open Friday night from 5:00pm to 9:00pm and on Saturday from 8:00am to 6:30pm.
Parking
Parking is available along Bedell Avenue (U.S. 17) and all side streets from 4th Street to the southern City Limits.
Crawfish